4 Keys to COVID-19 Safety for Schools
by EO Johnson Business Technologies | Jul 23, 2020 | COVID-19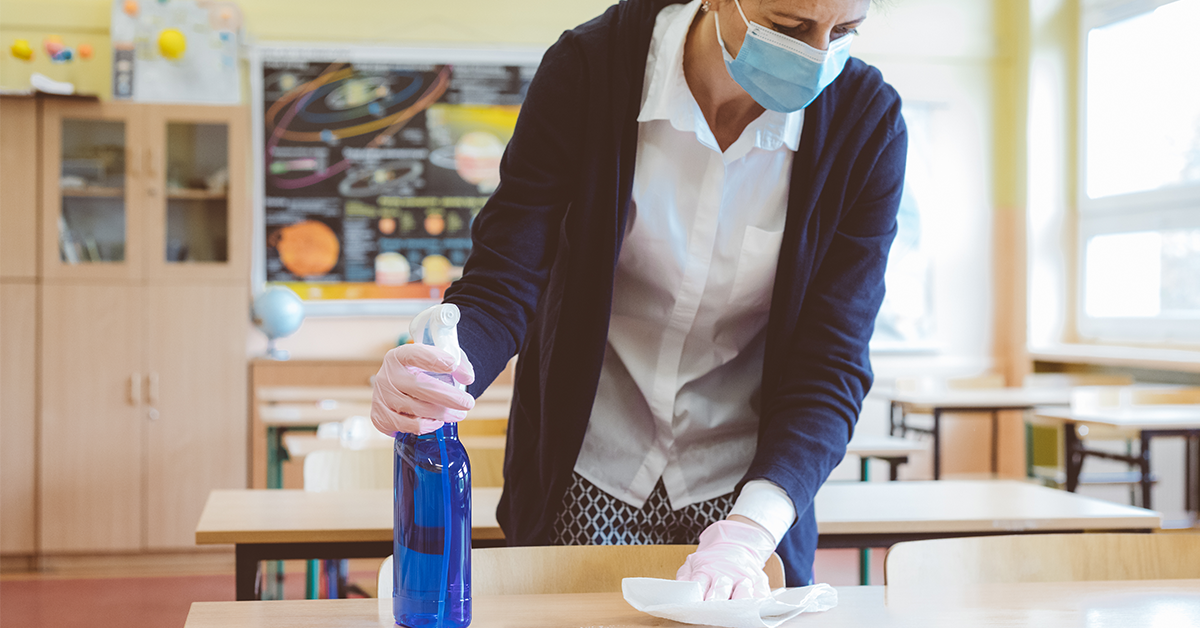 EO Johnson Techsperts offer Back to School Tips
The start of the school year is right around the corner, and all eyes are on COVID-19 mitigation efforts. Whether your school, district or university decides to return to the classroom, teach virtually, or a combination of the two, there are several steps you can take to protect staff and students. But beyond social distancing, masking, plexiglass barriers, and handwashing, what can schools do to reduce the risk of viral spread?
4 tech tips for pandemic safety in education
The techsperts at EO Johnson Business Technologies know it's critically important to look out for the health and wellbeing of all who participate in our educational system, so they've put together these four keys to COVID-19 safety for schools, from a technological standpoint.
Clean shared office equipment regularly and properly
It can be easy to forget that printers, fax machines, shared computers and multifunction devices could aid in viral transmission if not cleaned properly and regularly. Yet, cleaning devices can be tricky. Improper cleaning can actually irreparably damage your devices.
Remember, devices differ, so be sure to read and follow manufacturer instructions. Overall—no matter what device you are disinfecting, never spray cleaning product directly on your device, never use bleach or abrasives, and never allow moisture to drip into your electronics.
Here are some general tips to help you disinfect your devices safely.
Wear disposable latex or nitrile gloves

Turn off and unplug the device

Use adequate ventilation

Use isopropyl wipes, or disinfecting wipes safe for electronics

Wipe down all high-touch surfaces

wipe display screens and control panels, in one direction: from top to bottom

Allow device to air dry completely

Discard gloves and wash your hands
Want to keep these tips handy? Print our infographic on disinfecting devices, and post it near all of your shared office devices.
Explore touchless device options
There are several ways you can bypass touching shared office equipment, and minimizing contact with the same surfaces may help slow the spread of coronavirus. First, staff can use their own stylus instead of their hands, or a pen with a stylus end. Beyond that simple solution, there are tech solutions such as Papercut/Uniflow which can enable staff to print without making contact with a device. Through these technologies, you can set up QR Code Printing, enabling staff to use their smartphones to send and manage print jobs. This technology can be used with most popular smartphones on the market today, and works in conjunction with most models of copiers or printers—so chances are you have capability in house already. You may also wish to explore Web Release and Web Portal release options. Or, you can configure what's known as "follow me" printing, and lengthen the print queue to 7 days. This will allow workers to come to the office less, or approach the printer less. More, printers can be configured to release prints with a badge or fob swipe—so there's no gathering at the printer, and no one else handles the documents you've printed.
Don't have the technology or the know-how to put these tools to work? We can help, simply contact us.
Institute paperless solutions
Some work requires printed documents, but technology has enabled countless organizations to move toward paperless solutions—and that's a great strategy during a pandemic. Our Document Scanning division is adept at helping organizations move toward secure file sharing and storage solutions that practically eliminate the need for paper files.
Yes, paper files have served many organizations well in the past. But in the midst of this pandemic, as we strive to minimize contact with others and maximize productivity—even when it's done remotely—secure document scanning and cloud-based document management provide powerful solutions to these needs. Best of all, we can forge a solution that works within your budget, and show you how your team will realize greater efficiencies over the use of shared paper files, while still protecting your network and data.
Consider Microsoft Teams for virtual learning
Many schools are looking for remote solutions for everything from full-time online education to a hybrid of on-site and virtual learning. Microsoft Teams is a productivity platform with broad-based capabilities that are easily adaptable to the virtual educational environment. From chat capabilities to video meetings and calls as well as app integration for increased productivity, Microsoft Teams can help your classes stay safe and keep learning.
Getting started with Microsoft Teams requires the right partner—someone who understands the pressures schools face right now, and can help you get up to speed, fast. Our Microsoft Teams consultants can assist with everything from licensing and training, to making the most of this robust platform. Feel free to contact them directly to get started.
Jeff Balacek, jbalacek@eojohnson.com, (608) 519-8493
Dan Rickert, drickert@eojohnson.com, (715) 261-4542
Micah Stevenson, mstevenson@eojohnson.com, (651) 334-7620
Pivoting for pandemic mitigation in schools
In the age of COVID-19, safety for schools is essential. With these tips, strategies and tactics in mind, we hope you'll feel more secure and ready to face the uncertainties of the school year ahead. And if you need help along the way, we're ready to serve. Simply contact us to learn more about the many COVID-19 mitigation solutions we can help put into place for the health and wellbeing of your students, staff and faculty.