Businesses that Give Back: Fighting COVID-19 Fallout with Tech
by EO Johnson Business Technologies | May 07, 2020 | Community, Production Print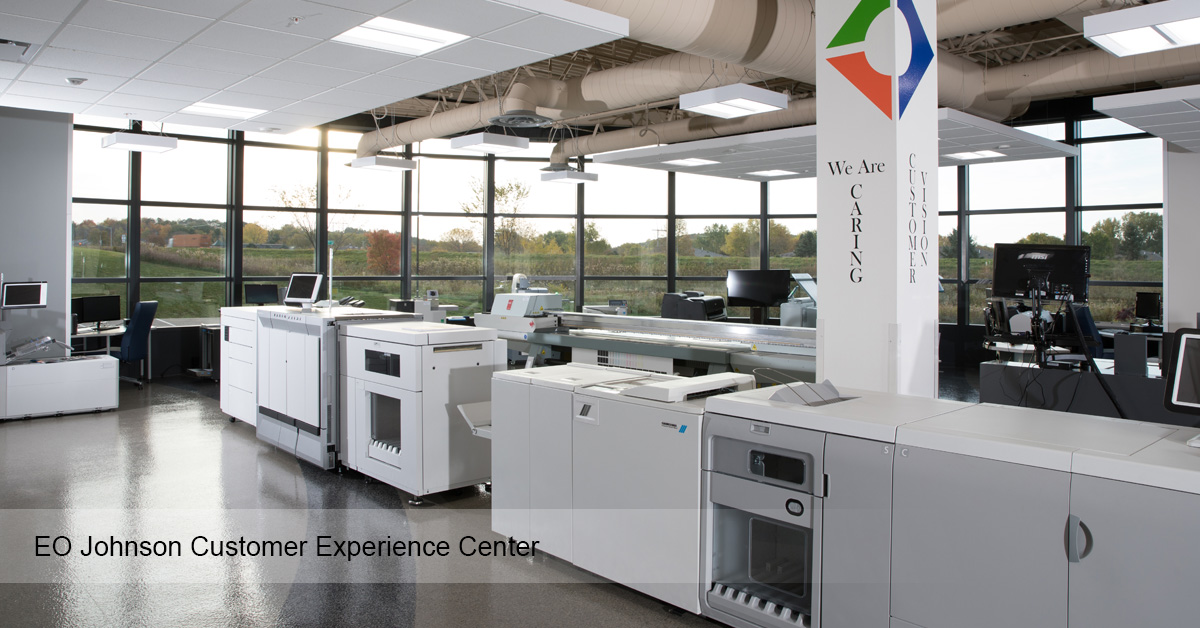 They're learning how to make face shields, masks, signage and more
As businesses scramble to get our national economy back on track, many are pivoting toward supporting recovery efforts in creative ways. These businesses that give back or step up their game to support those who need it, are leveraging technology to tackle some of our biggest needs right now, from signage to products that can be easily sanitized, to health care and social distancing needs. Their toolbox: the devices they often already have on hand: printers, laminators, flatbed technology and tech that lends itself toward automation.
At the core of the movement are businesses that give back. And the result could pay dividends. "Necessity is the Mother of Invention," says Maury Greene, Production Print Account Executive at EO Johnson Business Technologies. "There will be companies that are in a better position because they found a way to contribute, stay relevant and create new markets because of the crisis."
Among the emerging needs, is the desire to thank those who are saving lives, and recognize others. "Many communities are trying to find ways to honor the front-line health care workers and graduates who lost their traditional recognition and ceremonies. Creating meaningful printed material can be a lasting tribute to people and their relatives during these stressful times."
Creative solutions to forging a path forward
As a leader in business, you may be wondering how your organization, whether a small or medium-sized business, can help. The truth is, on a local level, there are numerous ways you can put your existing business technology to work for the collective good.
Face shields, masks and signage
For example, both flatbed cutters and wide format printers can be workhorses for the cause.
"Flatbed cutters are great tools to create face shields and masks, explains Greene. "Wide format printers can produce floor markers that help retailers with social distancing. There is a great need now for new signs and posters to be displayed throughout gathering areas to remind the public of new policies, good hygiene practices, and directing new traffic patterns.
Perhaps you already have the right technology in place to pivot to these needs. If not, or if you are looking to upgrade, EO Johnson Business Technologies has products for these applications, including the Canon Arizona for flatbed technology and the Colorado roll-fed system.
"Both offer a tremendous variety of capabilities," Greene explains.
Programs, menus, forms and more
With a focus on maintaining social distancing and minimizing the spread of the COVID-19 virus, there's a great need for professional color, single-use items that would be impractical to sanitize and use again. Many businesses find themselves in the position of needing this technology or a vendor who can help with emerging supply needs for these printed pieces.
"Riso ink jet technology is a great fit for establishments that suddenly need documents such as handouts, single use menus, programs, bulletins and forms that can't be reused," Greene says. "With production ink jet, you can produce spot color pages for as little $.01 a page at speeds of up to 160 ppm. Riso ink jet is a green technology that does not require adding significant power to operate. With production ink jet technology, printed sheets are flat and easy to handle, refeed or finish. This technology can also be used for absentee ballots and all kinds of form printing that will be popping up as we move forward."
Greene adds that ink jet is also an excellent technology to use for envelopes for mailings and inserts, an important consideration for businesses pivoting to processes and transactions done remotely versus in person.
Lamination needs
As we return to a changed world, businesses will need to adjust to an increased need to sanitize shared items. As restaurants re-open, for example, menus may be sanitized between customers. Having the right laminator can help you produce documents that are encapsulated, so they can be cleaned and used multiple times.
Greene says EO Johnson has laminators that are user-friendly on several levels. "They utilize document feeders so little user intervention is necessary. Schools, churches and other organizations may also count on lamination on a larger scale as it becomes necessary to clean any multi use documents (think any document that is collected at the end of a program for reuse). Depending on specific applications we can recommend a laminating system to fit customer's needs."
Automation
As companies begin to re-open, job responsibilities will likely shift and change. But mastering new technology shouldn't be a barrier to forging ahead. "We offer many automated technologies, such as Horizon folders and Duplo Slitter Cutter Creasers that can take a novice and turn them into an efficient, productive operator is a short amount of time," Greene says. "Time between jobs can be minimized by reduced setup with intuitive programing."
Best of all, many of these devices allow operators to operate more than one device at the same time...making the most of the new efficiencies in your organization.
Embracing an opportunity to help, with technology
Businesses that give back during this time of crisis, or pivot to creatively fulfill emerging needs of their clients, continue to build valuable relationships while shoring up resiliency in their communities during these tough economic times. Whether you want to know how to make face shields and masks, or you're stepping up to the plate to print reusable items that can be sanitized, the need is overwhelming. You may already have the right business technologies in place to get started. But if your company wants to upgrade existing equipment, with a mind toward the needs of our rapidly-changing world, the EO Johnson Production Print team can help. Send an email to Maury Greene at mgreene@eojohnson.com.