Why it's Vital to Shop for PPE Locally
by Chris Fullarton | Aug 14, 2020 | Your Business. Better., Remote Workforce, COVID-19, PPE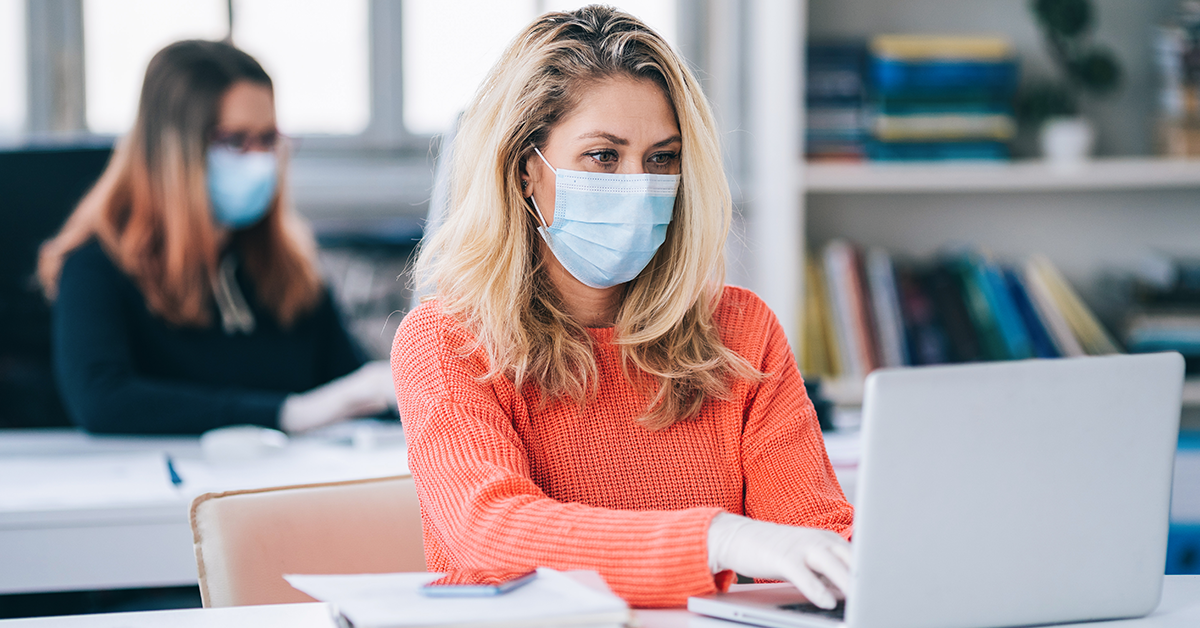 Buying local protects you from PPE Scams in several ways
From reports of toxic hand sanitizers, to substandard equipment, to fraudulent vendors promising large shipments of PPE to schools, hospitals and businesses, when it comes to buying PPE, it's buyer beware out there. In the rush to reopen businesses and schools, it seems everyone is in need of PPE these days: for customers, for staff, for health care workers, for faculty and for students. That makes the situation ripe for unethical opportunists who proport to offer solutions, but in the end, only create more problems.
Even the Federal Bureau of Investigation has warned consumers about rampant fraud on the PPE supply market. These scammers have promised supplies they do not have, so some have received wired funds and have not fulfilled orders. And they often price goods far lower than reputable companies, to capture the most sales from unsuspecting victims. Bad actors have even pretended to be part of a reputable agency, creating similar email addresses and redirecting payments to their own pockets. When trying to procure the supplies you need to face the COVID-19 pandemic and protect the wellbeing of those around you, the risks are many.
The difference of buying from a trusted vendor
At EO Johnson Business Technologies, we live where you live. Our children attend school where your children go. And we are passionate about protecting the wellbeing of our community to the best of our ability. From our perspective, we're all in this together. And that's why we've taken the extraordinary step of working with trusted vendors to ensure you have a safe option for ordering PPE, from a trusted, local company. Browsing the internet is no way to find a reputable company. Even Amazon.com has taken down millions of products that make fraudulent promises about preventing infection or spread of COVID-19. It can be difficult, if not impossible, to tell who's on your side.
When you work with a local, family-run company that has been in the area for more than 60 years, when you've depended on them to deliver the best in business technologies and support, you know you're working with someone you can trust.
The PPE we stand behind
We're dedicated to helping reopen our communities safely. So we've gone to great lengths to ensure we have access to PPE that is safe, reliable, and trustworthy. Here are the products we stand behind, which we can procure for you.
Reusable Face Shields: 9" optically clear, adjustable headband, comfortable foam liner
3-Ply Disposable Face Masks: 1,800 masks per case, elastic ear loop, disposable
KN95 Masks: 10 masks per case, >95% filtration efficiency, lab tested
Children's 3-ply Face Masks: fits children 4-12 years, ear loops, filtration efficiency: 95%
Hand Sanitizer: 70% isopropyl alcohol, kills 99.99% of germs, contains moisturizers and vitamin E, multiple sizes available
3M™ TB Quat Disinfectant: non-acid, non-abrasive cleaner; highly effective against broad spectrum of pathogens, EPA registered
Disposable Nitrile Gloves: powder-free, 4 mil thickness, single use, ambidextrous, available in variety of sizes
When it's time to order PPE, ordering from someone you trust can give you the peace of mind you need to move confidently toward our next chapter.
How to order PPE for your organization
Want to learn more about PPE products available through EO Johnson Business Technologies? Read more about our PPE options and costs on our website, and follow the instructions on how to contact us. An EO Johnson account executive will get back to you to discuss your options.
Related
Return to Work Essentials September 25, 2020 In "Business Process Improvement" "Your Business. Better." "Business Continuity" "COVID-19" "Return to work" ,
Big Savings on Production Print and Finishing Inventory September 10, 2020 In "Managed Print Services" "Your Business. Better." "Multifunction Copiers/Printers" "Production Print" "Managed Service Provider" ,
How to Clean a Printer August 27, 2020 In "Print Imaging" "Your Business. Better." "Health Care" "Managed Service Provider" "Printer" "Printer cleaning" ,