For Business Printers, Remote Diagnostic Tools can make all the Difference
by Frank Paulich | Feb 27, 2020 | Service, Document Solutions, Remote Diagnostics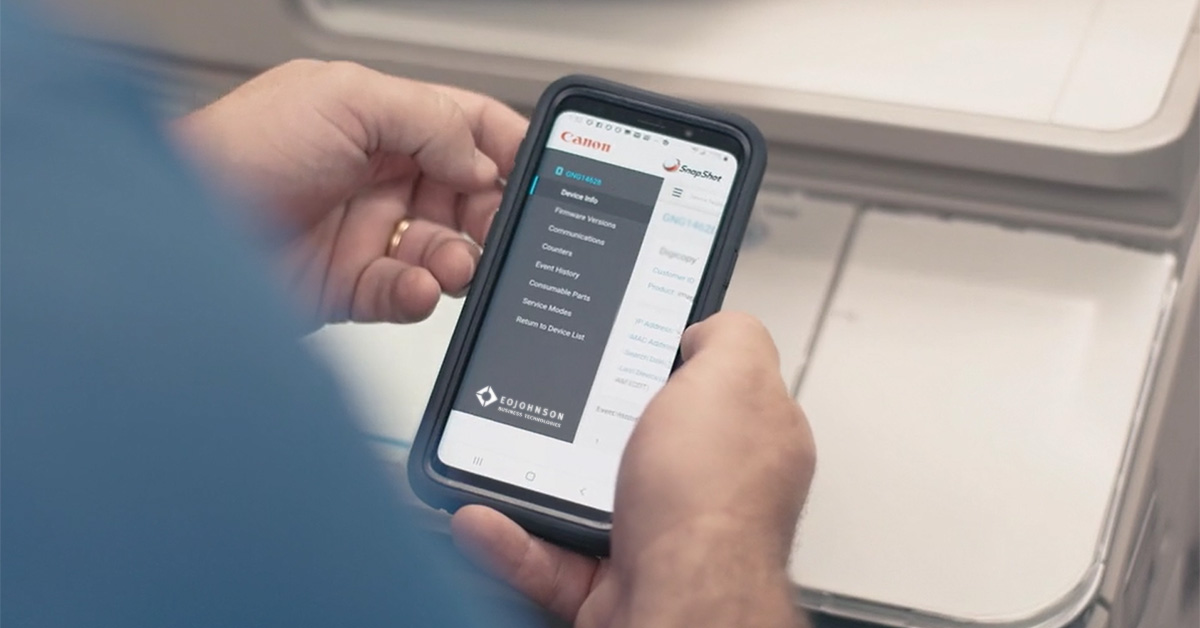 Remote diagnostics can keep your multifunction office printer on the job
Nothing slows productivity to a halt like a business printer on the fritz, and having to wait for it to get back up and running again. For those who want to maximize productivity of their multifunction office printer, and reduce downtime, remote diagnostics make a world of difference. Remote diagnostics allow your business printers to be monitored and often repaired remotely—reducing wait time and ensuring you have the printing capability you need at the office, when you need it. More, remote diagnostic tools can help technicians like the experts at EO Johnson Business Technologies get a heads up on wear and tear, parts that are due for replacement, toner needs and much more.


The benefits of remote diagnostic tools for your printers
Remote diagnostic tools first came on the scene about a decade ago, but in the past few years they've become even more effective.
The capability is different for every manufacturer, explains Frank Paulich, Vice President - Service for EO Johnson. "Essentially they all collect a machine's technical details and service data, and make that information available to our service technicians, which allows them to better service the equipment."
Having access to vital information in advance of a problem, or in the nick of time, enables service technicians to arrive informed and address issues swiftly, maximizing your business printer's productivity. "We find that customers who enable their machine's Remote Diagnostic tools have a higher uptime percentage, more time between service calls and faster repair times when a technician is onsite," Paulich says. "The value of these tools is awesome and capabilities are expanding so we encourage all customers to sign up for these capabilities."
So, how do remote diagnostic tools for business printers work, exactly?
"Once enabled, the machines frequently report status information regarding firmware version, jam codes, error codes, consumable parts life, and other data pertinent to the performance of the machine," Paulich says. "This data is sent to a vendor owned server over a secure network connection, then our technicians can view this information via another vendor server."
Paulich also points out that the sharing of this information is secure, and no customer data is transmitted, so you can remain confident that your business is protected.


The surprising aspects of remote diagnostics for multifunction office printers
With so many benefits within reach, just by switching to remote diagnostics, you may wonder about how much it costs to get started, and when you'll see ROI. The truth is, new machines have the most features, but even if your existing business printers are five years old, chances are excellent you can take advantage of this technology.
More, there is no charge for this service, says Paulich, "So the benefits compared to the cost are tremendous."
Enabling remote diagnostics is easy, and won't break the bank, but more than that, it's clear that all business and organizations can benefit from remote diagnostic tools. In addition to improving the performance of your printers and their uptime, you also gain access to a number of tools that can further enhance your productivity.
"Customers who use the remote tools and then also use our e-info portal, service call alerts, auto meter collection, e-billing, and other programs really benefit from maximizing our complete list of web-enabled services to their full capacity," says Paulich.


Getting started with remote diagnostics for your multifunction office printer
Ready to learn more about how remote diagnostics can improve your business printer's uptime? Getting started is easy: some machines can be enabled remotely by the EO Johnson Help Desk and others need to be enabled by an onsite Service Technician. Best of all, it takes only minutes per machine to enable the service.
Want to learn more? Simply reach out to your EO Johnson Sales Representative or Service Technician, or call 844-342-5365 to have the remote diagnostic tools enabled on your business printers.