The Best Commercial Copy Machines Deliver on Your Needs
by Kendall Glaunert | Jan 28, 2020 | Print Imaging, Multifunction Copiers/Printers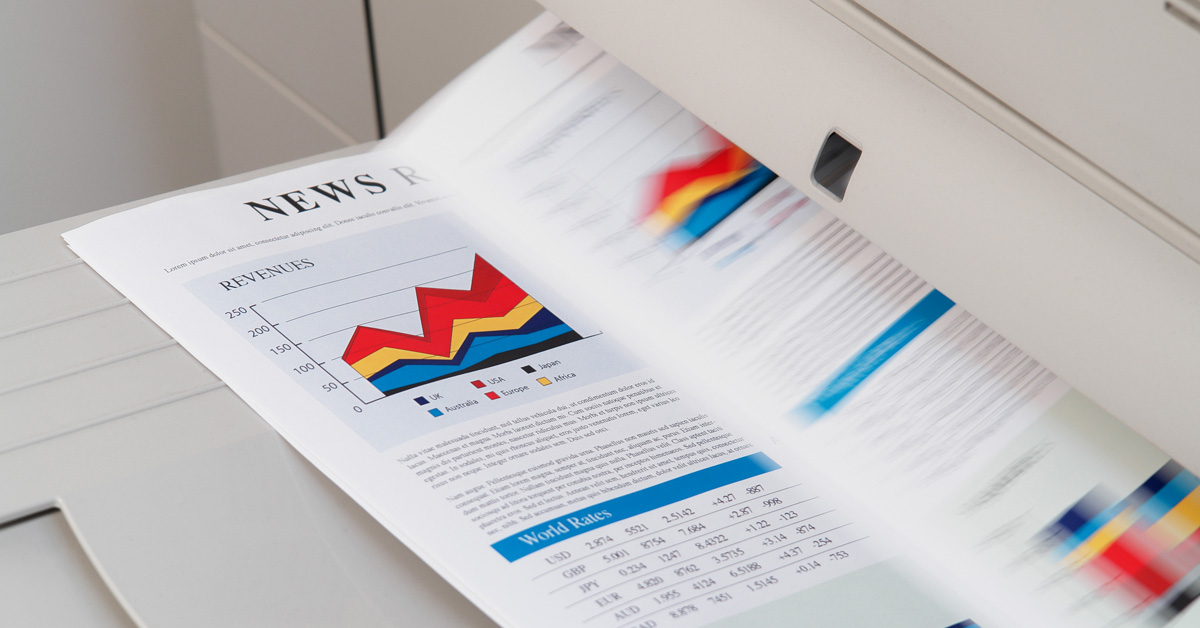 Finding the best copier for a small business or large starts with these questions
When you're looking for the best commercial copy machines for your company, it can be hard to know what to look for. Add to that the pressure that comes with a major purchase that is integral to your business operations, and the wide variety of choices on the market today, and it's natural to feel overwhelmed.
Finding the best copier for a small business or a large enterprise is, in fact, a challenge. You can't simply search online for the best commercial copier, because what it really boils down to are your company needs. So before investing in your next business copier machine, it's important to take a step back and ask yourself these five questions.
Five questions to ask yourself to find the best commercial copy machine for you
What type of copies do you need?

Are you in need of high-end image quality, such as for quality marketing collateral? Or are you mainly looking for quick print jobs, so you can refer to a word document during a meeting and mark it up as you go? Are you a small business owner that doesn't need color print or high resolution? The type of copies you need can be a huge indicator on what type of copier you invest in.

What output speed do you desire?

Before settling on a copy machine you must determine the output speed and volume you will need from your copier. Look for "PPM" indicated on the spec sheet to know how many pages per minute the printer can output. As a rule, small businesses should aim for a copier that can output at least 50 pages per minute.

What accessories does your business need?

Although there are copiers on the market today that do only that, chances are your business wants more from its copy machines. And today's technology can deliver. Do you need a copier that can store several documents in memory? Do you require a scanning feature? What about networking capabilities? And, would you need to print to the cloud or scan to cloud email? What about voice recognition? Are you in need of hole punching, stapling and watermark technology? You may be surprised at the features and accessories available in today's copiers.

What paper weight and size does your business need?

Different printers handle different paper weights and sizes. If your business needs larger-format documents, such as 11" x 17" paper, or heavier-stock paper, you'll want to make sure you invest in a printer that specializes in that paper weight and size. If your company only needs to do up to legal size paper (8 ½" x 14") there are devices that fit those needs as well. Make the wrong choice, and you will no doubt be disappointed in the quality of the print jobs.

What are your business security needs?

In this day and age when technology is so often network-ready, it's vital to think about the security of your data. Take into consideration the sensitivity of and type of data your copier will be accessing and storing. Don't know where to start? Check out this guide to copier data security from the Federal Trade Commission.
The best commercial copy machine is the one that serves you
It's easy to be wowed by the bells and whistles of the top commercial copiers, and it's easy to put a lot of stake into online reviews. But to find the best commercial copy machine for small businesses or large, you first have to take a hard look at your organization's unique needs. Use these five questions to guide your process, and you're sure to make a better choice for your enterprise.
Want additional professional expertise on your side for choosing your commercial copier? Contact us; our imaging professionals are eager to assist you in your commercial copier needs.