COVID-19 Risk Reduction and Shared Office Equipment
by Dan Mengel | Jul 09, 2020 | Secure Document Management, Touchless Tech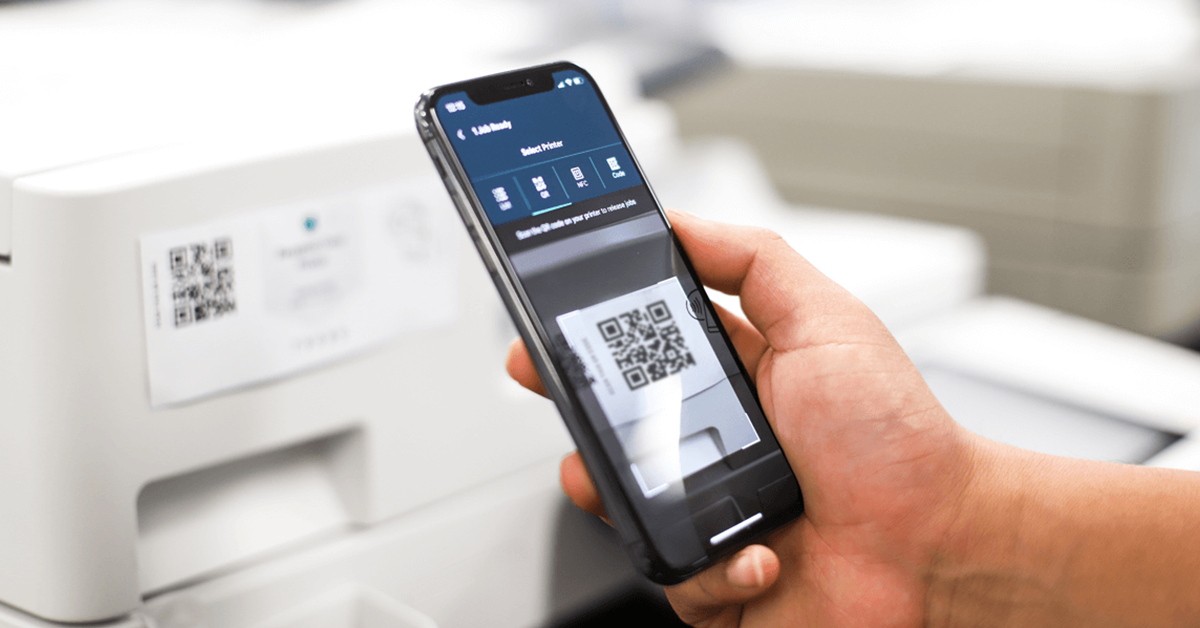 Reduce or eliminate touching shared surfaces with today's tech
As many of us return to work in the office environment after months of working from home, we're met with a new series of challenges. How do we look out for one another's wellbeing in the midst of a pandemic? What steps can we take to reduce the risk of virus spread at the office? And, what technologies can help businesses overcome these challenges and get back up to full speed? The post-COVID-19 world maybe nowhere on the horizon, but the need to get back to work is imminent.
One simple step we can take in the office environment to reduce the risk of viral spread among employees is to reduce our physical contact with shared office equipment. In the past, we've shared our tips for safely sanitizing your multifunction devices, which can be helpful for those who haven't yet transitioned to hands-free technology. But if you're ready to make the jump, touch-free technology can provide an extra layer of protection to your staff. And it turns out technology solutions for printing, copying and faxing exist that can reduce or eliminate the need to touch shared office equipment, altogether.
Understanding low-touch or contact-free technology for printing, copying and faxing
There are numerous solutions today for touchless tech at the office. The Advanced Applications team at EO Johnson Business Technologies assists clients in implementing this tech regularly, and can help you make your workplace safer. That may mean minimizing the need to touch shared equipment, or even eliminating the need to touch copiers, fax machines and printers altogether. Here are some of the ways we approach this challenge.
QR print options
Imagine being able to up your office safety without a huge financial investment into new office equipment. Turns out, it's possible! With QR print options, your employees are able to access print options securely from their smartphones. Your staff members use the camera function of their phone to scan a QR code posted on your print device. When they do, the scan prompts a print release app or web address on their phone, showing their list of print jobs. From that list, staff can select jobs for print, or delete them as needed. Best of all, this technology can be used with most of the popular smartphones on the market today, and it works in conjunction with most models of copiers and printers.
Badge and/or fob print options
Our Advanced Applications team members can also install card readers for badge or fob authentication and print release. With this technology, employees simply swipe their badge or fob across the card reader to release prints without touching the shared print device. Copiers and printers can be configured to automatically release user print jobs immediately after the swipe, saving precious time and reducing the likelihood of employees gathering around the device. (An important consideration for reducing risk of COVID-19 spread through social distancing at the office.) In addition, your business may be able to use existing badges or fobs, with a potential cost savings.
Cloud-based fax solutions
These days, secure cloud fax solutions can be a valuable tool as you strive to reduce shared spaces in the office. With cloud-based fax solutions, employees can easily send and receive fax communications from their home office. More, they can avoid touching any print device altogether by faxing directly from their email account. This again eliminates the need for staff to congregate around the fax device while waiting for confirmations. More, with this technology, you can use your existing fax number. And perhaps most importantly, secure, cloud-based solutions allow your business to remain complaint and even more secure.
Touch-free tech is the new face of business
Touch-free and low-touch technology has been within reach for years, but now with a heightened interest in employee and client safety, its time has come. If you're interested in learning about the many tech solutions to help you protect the health and safety of your employees, we can help. At EO Johnson, our Advanced Applications team can help implement safe print and copy technologies that will help reduce your risk of an internal COVID-19 incident. Contact us to learn more about the safer way to print, copy and fax.