Printer Security: A key issue in education
by EO Johnson Business Technologies | May 26, 2020 | Cybersecurity, PrinterSecurity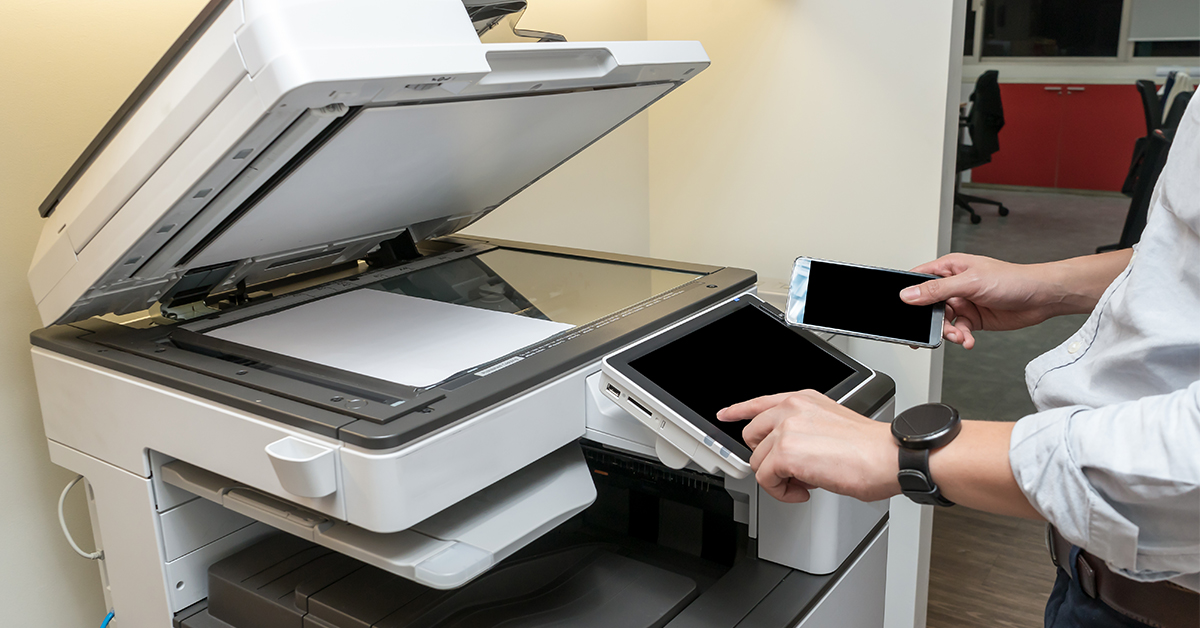 For the education sector, secure printing solutions are essential
As educators plan for their technology needs in the upcoming year, printer security is top of mind. That's because secure printing solutions are vital to protect the valuable data educators field on a daily basis. Yet printer security remains a major concern in the education sector, and rightfully so. In fact, in the first half of 2019, data breaches impacted 4.1 billion records, More, the University of Maryland reports that a hack happens every 39 seconds, for a total of 2,244 times per day.
Are your school's printers protected from hackers and other cybercriminals? Let's take a closer look.
Printers can provide an easy entry point for hackers
Without the right protections in place, printers can provide a portal for hackers--one they can swiftly and easily exploit to gain access to personal information and valuable data. It's all too easy to overlook the vulnerabilities of printers used at schools and elsewhere--after all, they appear innocuous enough, and in fact, many rarely consider that printers can operate like an unlocked door to any institution's data, depending on the sophistication of the device. Simply put, printers are a frequent source of data breaches.
Those in the know understand it's vital to have secure printing solutions in the education environment. Today's printers are often connected to your network, and as a result, can serve as a gateway to your entire system. Consider for a moment the volume of information your printers access and the processes they undergo. A single printer can not only process information, but receive and store sensitive data, including personally identifiable information. A single breach can subject your school or the entire district to losses big and small, not to mention, damage to your reputation.
What attackers can do via your school printer
The risks are many, and the stakes are high for school districts. Confidential information is commonly sent to printers, presenting a variety of possible scenarios. Here are just some of the potential issues related to printer security.
Unattended printouts can be physically accessed by individuals in-house

Storage media can be a gold mine of sensitive data and personal information

Malware can be leveraged to compromise printers

A breach can give someone access to any data sent to that printer

A printer can be used as a portal to access other data in a school district
But secure printing solutions can protect your district's valuable information. Here are some of the features and benefits that can be found with today's printers.
Secure printing solutions in today's print technology
When it's time to consider printer security for your existing printers, or perhaps upgrade your printer fleet technology, here are some features you may find beneficial for protecting confidential or sensitive information in the education environment.
Authentication features
Authentication features are common as a secure printing solution in the latest print technologies. This can range from biometric authentication, pin codes, smart cards and more. In addition, it's essential to update all default passwords, as you never know who might have somehow accessed them.
Automatic updates
With all the responsibilities on your plate, it's easy to push off automatic updates. Yet printers that are properly updates will have the latest vulnerabilities addressed, offering the highest level of protection for your printer-accessed data.
Monitoring of firmware integrity
The best printers on the market today can monitor firmware to ensure no unauthorized changes are made. This can also identify issues with printer memory and anticipate the need to reboot as a protective measure.
Encryption technology
Most of today's printers have the ability to store data--and stored data can be vulnerable to attack. If your print device encrypts the data stored on it, hackers will not be able to access that information, even if they gain access to the system.
Many schools have older print technology on hand, and that can be both good and bad from a security standpoint. Older printers may not be networked, or may not have storage capability, limiting their vulnerability. It's important to note that the risk associated with print devices can differ widely, and an individual assessment of each device in your printer fleet by a trained professional may be necessary to determine vulnerabilities and protect your school.
Printer security in schools: not to be taken lightly
It's easy to overlook printer security risks in schools, but it's essential to educate ourselves about the possible problems vulnerable printers can cause. Printer vulnerabilities can be addressed throughout your printer fleet, simply by partnering with the right experts. Whether it's time to revisit the security of your printer fleet, or identify new technologies and secure printing solutions for your school, the experts at EO Johnson Business Technologies can help. Contact us for more information about how we can help you prepare for the coming school year with the best printer security for your education environment.