Production Print Showroom at EO Johnson Business Technologies Helps Customers Make the Right Call
by EO Johnson Business Technologies | Jul 23, 2019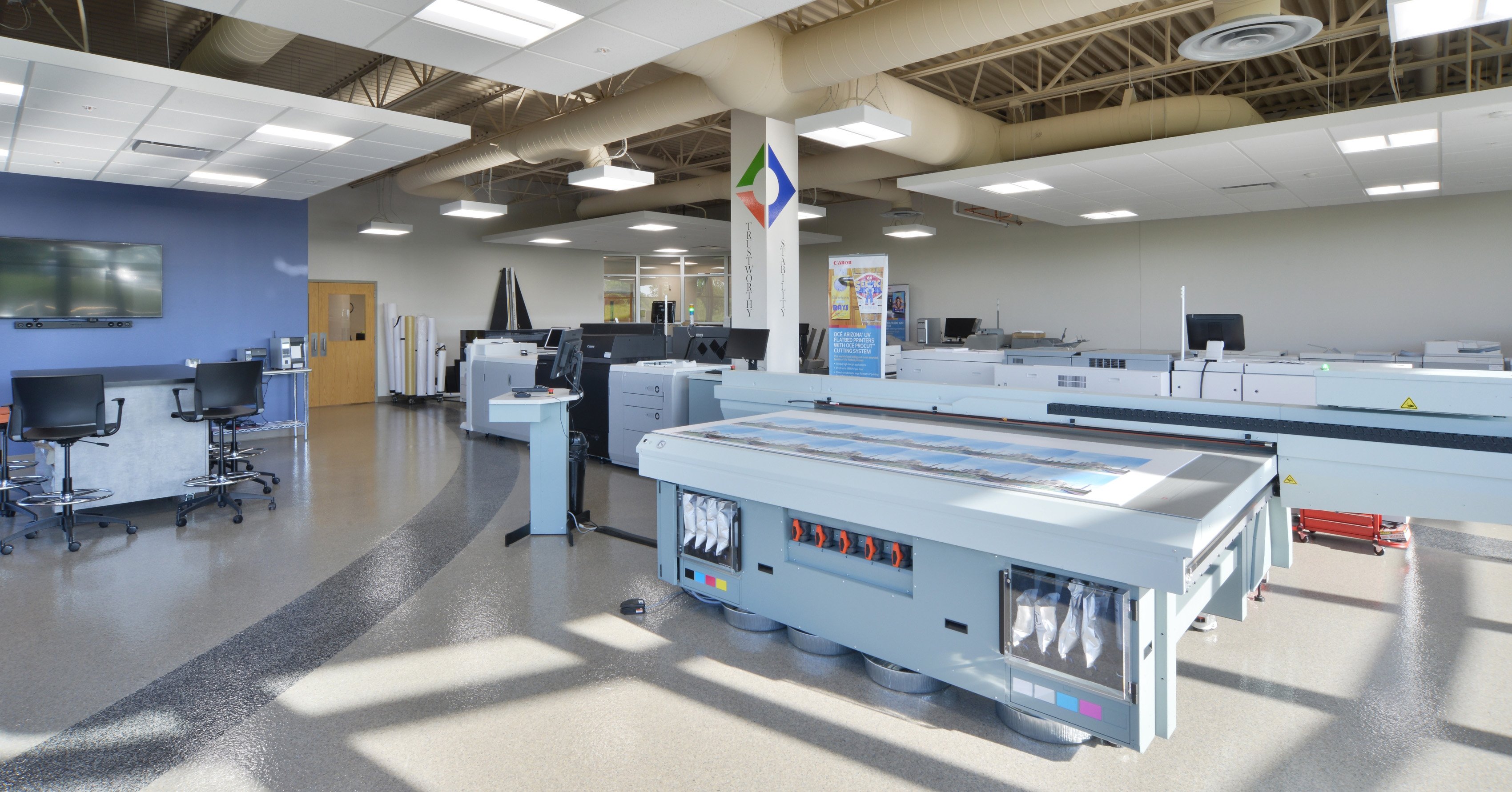 The Customer Experience Center in Eau Claire, Wisconsin helps them find the best printer for business
As a decision maker at your business, one of the greatest challenges you can face is choosing the best printers for your business. Having the right printing technology at the ready can save your business time, money and valuable resources. But how do you go about choosing the right printer for your office? Looking at a catalog or speaking to a sales rep, no matter how knowledgeable they are, sometimes just isn't enough. The truth is, there are some purchasing decisions you just can't make until you've tried out the equipment yourself.
Now imagine walking into a production print showroom near you, in a stunning, modern, light-filled setting, with all of the production print technology you want to consider, operational and ready for you to test drive. Imagine seeing an entire product portfolio at once, and being able to compare technology side by side, while actually watching it complete your print job. With the state-of-the-art production print showroom at EO Johnson Business Technologies in Eau Claire, Wisconsin, customers are getting a personalized experience that helps them make the right call for their office printing needs. Now in its second year, the Customer Experience Center is filled with inventory, to the tune of a million dollars, just waiting for customers to push its buttons and kick the tires.
"There's also a full, large-screen TV in there, so we can give demos of manufacturer's videos or software, or anything they need. Those presentations can be done right in the Customer Experience Center," says Dave Johnson, Vice President of Imaging at EO Johnson Business Technologies.
"When you bring the customer in to see the piece of equipment, whether it's a digital press, or a plotter, they just get the overall sense that we have a lot more to offer than just one piece of equipment, and we're not just a company that sells a digital printer," explains Jeff Reuter, Production Print Director at EO Johnson Business Technologies. "We have everything from start to finish as far as printing goes. It shows the level of the commitment EO Johnson has to being a player in the production print industry."
Industry leaders have called it the most impressive production print showroom and customer experience center in the United States. But, we'll let you be the judge of that.
More, for customers of EO Johnson Business Technologies, the Customer Experience Center offers an additional benefit. "If they have a job that's too big to run for their equipment, or if their equipment goes down, we can always act as a second print shop for any of our production print customers," explains Reuter. "And if they have a part that's broken, we'll even take it out of one of our pieces of equipment."
It's like having a second print shop, a backup plan for the hiccups that inevitably happen in business.
"With that, along with our experts in engineering and our service technicians involved and our dedicated sales specialists, we have a lot of knowledge behind our products, and a lot of training," says Johnson. "Customers can see the whole package, and it's all here."
Reuter agrees, "We've got a lot of experience, years and years and years of experience with this stuff. Our technicians are all at the top of their field, and the fact that we have the resources of what you could say would be a large, national company, but we're regional and make all of our decisions locally. We're a lot more flexible than other dealers or manufacturers, and we can provide the same level of service, if not better."
EO Johnson Customer Experience Center hosts open house
Here's your chance to see the Customer Experience Center in person.
Next month, EO Johnson Business Technologies is hosting a Production Color Open House, Tuesday, August 20 from 1-5 p.m., and Wednesday, August 21 from 9 a.m. to 4 p.m. It's a chance to tour the showroom, and see complete print jobs, start-to-finish, featuring equipment from Ricoh, EFI and Duplo. In addition, you can tour the Ricoh C7210SX 5-color device (clear, white, neon yellow and pink, UV red), and the Ricoh C9210 series with remarkable speeds of up to 135 PPM.
You will also be able to check out industry leading hardware and learn about vital topics, including:
Workflow automation strategies

Designing for 5th color printing

Expanding your business offerings by providing marketing services—featuring Clickable Paper technology. (Download the CP Clicker App to see more.)
The Customer Experience Center for EO Johnson Business Technologies can be found at 1505 Prairie Ln, Eau Claire, Wisconsin 54703.
EO Johnson Customer Experience Center: see the commercial printer showroom for yourself
Can't make it to the open house? Simply contact us directly to arrange a tour, when you can try out the state-of-the-art equipment in our production print showroom, so you can choose what is truly the best printer for business.