Health Care Industry and the Importance of Managed Print Services Providers
by EO Johnson Business Technologies | Jul 31, 2019 | Managed Print Services, Secure Document Management, Health Care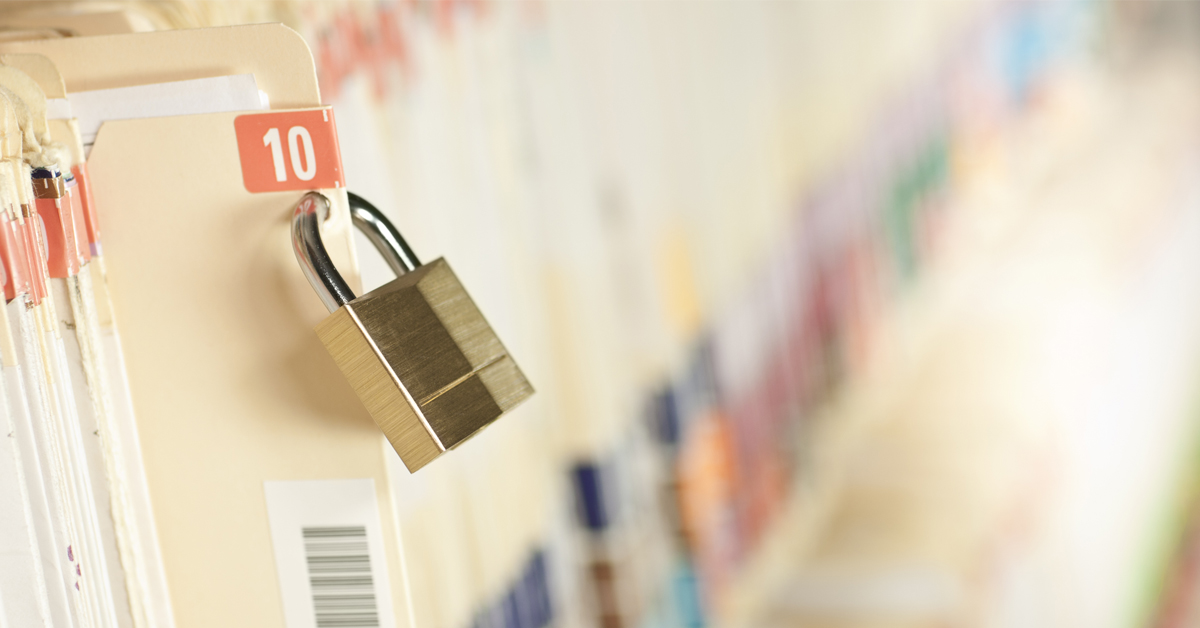 MPS, or managed print services, can help retain greater control over sensitive information
Leaders in health care know how essential it is to handle sensitive information with care. Not only is it critical to patient peace of mind, it's required under HIPAA, the Health Insurance Portability and Accountability Act. With that in mind, managed print services providers serve as a vital partner in controlling the printing and distribution of protected health information and other sensitive data. That's why MPS, or managed print services, are so essential in health care—even, and especially, at smaller health care organizations that may not have full IT departments to manage the integrity of their network and multifunction devices.
Balancing print needs and HIPAA compliance
"One of the biggest issues for health care is security and HIPAA compliance," acknowledges Al Emmerich, Wausau National Accounts Manager, but the considerations when it comes to MPS don't stop there. "Another thing they're looking to do is get better control of their printing expenses, and they're looking for a way to track and manage their entire fleet of printers and equipment. They have a need to free up and better utilize their IT services, and they're looking for something that's flexible and can change and grow with them."
In the rapidly-changing health care industry, agility is key, even when it comes to printing services.
"Another thing to add to that is their need to cloud print. Doctors are moving between clinics and hospitals, and they need track those prints, so the cloud is always something they're very interested in," adds Steve Cain, Director of Managed Print Services.
MPS providers: a strategic partner in health care
Simply put, printing for health care organizations needs to be cost-effective, convenient and secure. That's where managed print services providers, like EO Johnson Business Technologies, become a true strategic partner. With the right software for your organization, your printing process can be streamlined and better controlled.
Software with security and optimization at the forefront
When dealing with sensitive and protected health information, security is of the utmost importance. EO Johnson Business Technologies matches health care clients with the best in software and support solutions to ensure lock-tight security, whether it's software to augment a large, robust infrastructure already in place, or a comprehensive solution for small to medium sized businesses that provides access control to confidential information as well as other security features. Among them:
ImageGuard, a fully-secured solution supported by Locknet Managed IT. It provides auditing twice a year and secures devices.

PaperCut, print management software, featuring print and copy control

Canon UniFLOW Print Management Software, which provides secure printing, follow me printing and print analysis.
Overall, these software and support solutions can help a health care organization reduce their print fleet size and maintain better control over their devices, while minimizing the support time required from limited or overstretched IT resources.
Toner and supply ordering, automated
But managed print services providers like those at EO Johnson Business Technologies take it a step further. EO Johnson can streamline the toner ordering process through automatic toner alerting which alleviates the burden on the customer—you can cross it off your list. More, itemized billing makes it easy to manage a fleet of printers while knowing who is printing what, where, so you can optimize your organization's printer use, easily control costs and track spending.
"These MPS contracts pull that control back to where it needs to be," says Emmerich. Gone are the days of juggling multiple receipts; you'll get four streamlined, itemized invoices per year that detail the number of devices you have in your fleet, who has them, and the total cost of printing per piece. Now that's convenient.
Lightning fast response time
When timeliness matters (and when doesn't it?) response time is key. With 20+ years of experience in partnering with health care organizations to meet their MPS needs, the professionals at EO Johnson know how essential it is to be responsive when service is needed. That's why MPS clients can expect a response within hours of encountering an issue. In addition, when devices need to be secured, our staff will be able to do so, to support your organization's compliancy.
EO Johnson Business Technologies has a massive footprint for service technicians in the area, one that is unmatched by any other dealer in the region. So even as the health care industry grows and changes, we can continue to support that growth with unparalleled managed print services.
"Whatever MPS program we have needs to be flexible and change with them. That's how we've always looked at this," explains Emmerich. "We put a program in front of them that's customized and tailored to them specifically—it's tailored to what they're looking for, and where they're going."
MPS and health care: an essential partnership amid rapid change
Flexibility. Agility. Responsiveness. Experience. And security. When it comes to managed print services and health care, there's a lot to consider. And EO Johnson Business Technologies is at the ready, with a proven track record of supporting health care organizations of all sizes with their print needs.
Ready for a closer look at how EO Johnson Managed Print Services can help your health care organization? Contact us.