EO Johnson Business Technologies Awarded Prestigious Recognition for Service and Support Excellence
by EO Johnson Business Technologies | Nov 02, 2018 | Service, News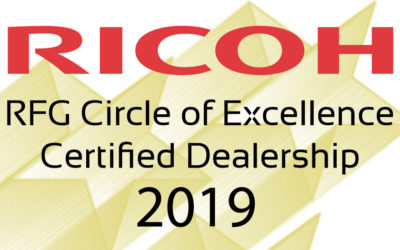 EO Johnson recognized as Ricoh RFG Circle of Excellence Dealership for the Fourth Time
EO Johnson Business Technologies and its authorized service locations have been recognized as a Ricoh RFG Circle of Excellence Certified Dealership for 2019. This prestigious recognition is awarded to dealers who provide outstanding service and support to their customers, according to Ricoh's stringent guidelines.
Randy Knapp, Vice President of Service for EO Johnson Business Technologies says at its core, achieving a high level of expertise is about customer service. "The testing and evaluation process for this certification is intensive, but in the end, it's our way of ensuring we continue to provide an unparalleled level of service and customer care," he explained.
Ricoh selects companies based on an annual assessment of both the technical ability of industry technicians and the performance of service operations. Ricoh then performs an operations assessment to determine whether a business meets the highest of standards. Through timed testing on hardware or solutions, technicians strive to score among the top 75 in the country, earning them the distinction of Prestige Elite. EO Johnson had five technicians who scored among the top 75 in the nation in their respective categories.
Hardware Prestige Elite Technicians:
Phil Zeman Wausau Ranked 27
Dave Sesvold Onalaska Ranked 41
Ben Nikolay Wausau Ranked 68
Solutions Prestige Elite Technicians:
Ben Nikolay Wausau Ranked 13
Scott Wilkans Eau Claire Ranked 44
About EO Johnson Business Technologies: EO Johnson Business Technologies is a leading business technologies provider, offering managed IT services, managed print services, document management, scanning and business processes systems, and print/document and production printing equipment. EO Johnson is certified as a Woman Owned Business through the State of Wisconsin and a 2016 BBB Torch Award for Ethics winner.