Big Savings on Production Print and Finishing Inventory
by Jeff Reuter | Sep 10, 2020 | Managed Print Services, Your Business. Better., Multifunction Copiers/Printers, Production Print, Managed Service Provider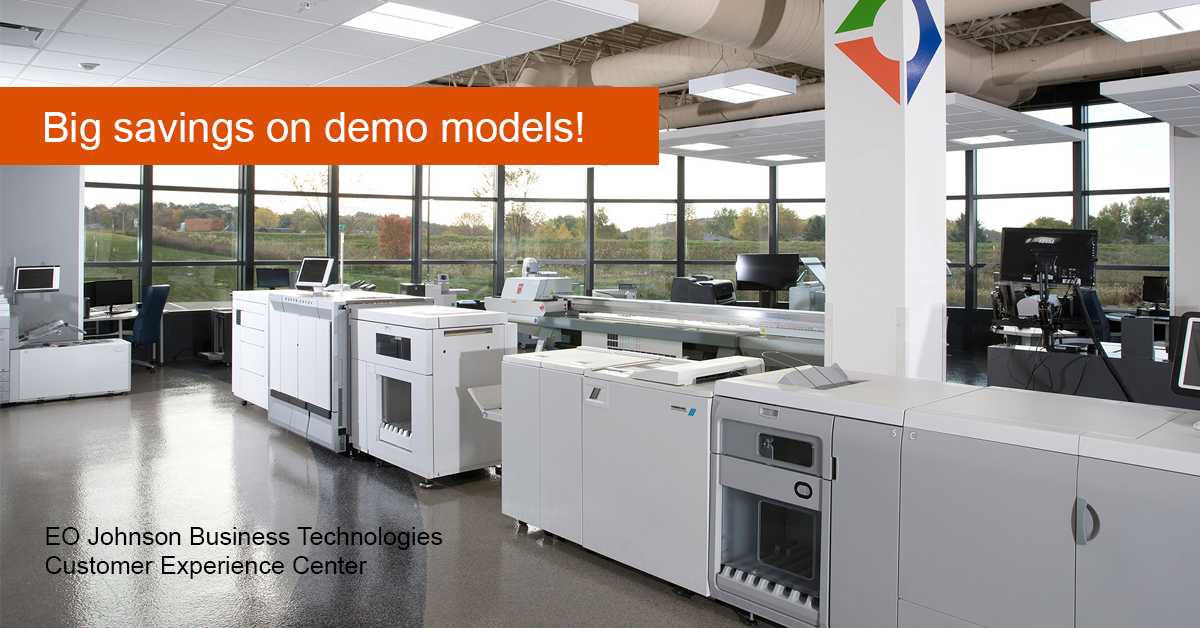 Demo Models moving out to make room for latest tech
At EO Johnson Business Technologies, our Customer Experience Center allows clients to see and experience the latest in production print and digital press technologies first hand. It's a unique opportunity, as there's nothing quite like it in the Upper Midwest. We always showcase the most exciting innovations that can make Your Business. Better.
But the time has come, and we need to make room to showcase the newest demo equipment on the market today. These are still among the strongest performers in production print/digital press, and they need a new home. Pro tip: now is your opportunity to save on demo models!
Have you been waiting to purchase the latest in production print technology or digital press equipment? Or, in this new economy, perhaps you've tried to scale back a bit from a budgetary standpoint. Let's be honest: sacrificing quality is simply not an option in your industry. The good news is, now may be just the moment you've been waiting for. Because we're moving out these demo models to make room, this is your opportunity to capture some of the best technology on the market at prices that fit your budget.
Here are just a couple of the models we're moving out to make room, as well as video demos so you can see their capabilities.
Ricoh PRO C7100X

Canon IPF680

Canon IPF785

Océ PlotWave 340

Ricoh Pro C9200

Canon imagePRESS Lite C165

Duplo DC-618

Horizon Stitchliner 5500
Want to see the additional available models? Check out our floor model product page, and we'll be in touch. When you're ready to know more, just fill out the form and we'll get back to you in a timely fashion.
If you'd like to take an in-person or virtual tour of our incredible, one-of-a-kind Customer Experience Center, or just want to talk through the options that are right for your business, email Jeff Reuter, Production Print Director.
Act fast! These demo models are flying out the door...which is exactly what we need to make room for the latest and greatest production print and digital press equipment.